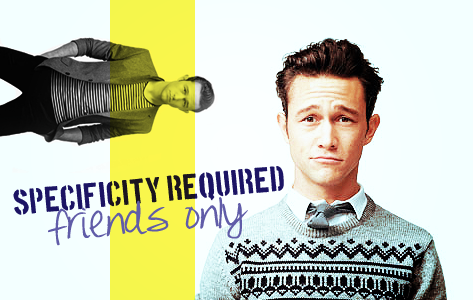 Hi, bbs! This is Sarah. Shocker, right? Since you totally couldn't tell that from my real mysterious LJ username. You can find me over at Twitter under the same username too! :)

(FRIENDS WHO KNOW ME IRL: BACKTRACK BACKTRACK BACKTRACK. Pretend you totally didn't find this. I promise you'll think so much worse of me once you go through all of these, so please. For you and for me, just click the Back button and uh, friend me on Twitter instead.)

What I'm into right now:
- INCEPTION (Arthur/Eames, Ariadne/Yusuf)
- Teen Wolf (Stiles/Derek, everyone/everyone)
- Avengers (Clint/Coulson)
- HP (Scorpius/Rose, Draco/Hermione)
- Suits (Harvey/Mike)
- White Collar (Neil+Peter Bromance FTW)
- Merlin (Arthur/Merlin, Merlin/Morgana)
- Castle
- Fringe
- Psych
This Live Journal is semi-friends only. (Most of the time at least. Or at the very least, most posts shall be locked after about a week or so for the benefit of my non-LJ-user friends. =D) I keep fandom stuff, fanfics and pimpages public. But if for some reason you want to know more about my life or listen to me fail at life, feel free to comment to this post to tell me why you want to friend me (or at least just tell me your name and rec a TV show or a fic or something) and I will, more often than not, friend you back.
---
Layout by:
incandescent
Header by:
sarahyyy
FO banner by:
thecowboycliche
Mood theme by:
thefrozenheart
*LJ Title, Subtitle and F-page Title are taken out of Christopher Nolan's
"Inception"
. I do not own the brilliance.